---
Paul en Liverpool ayer nomás 01/06 aporte de Fernando García de Perú Gracias Fer!!
- Paul McCartney pulls our all the stops at Anfield Stadium -
It looks like Paul really did put on a really big show for his hometown.  This was not just another concert stop for him, it truly was a homecoming filled with lots of surprises.  There were new songs that Paul hadn't played out before, homages to his bandmates, singalongs, and special guests.
It seems that Paul's live sets just grow and grow with more depth.  It seems that a splendid time was had by all.  We wish we could've been there.
   - Sir Paul McCartney rocks night of Liverpool Sound -
Here's what we've read.
 Source : Times UK
              set-list du concert :

 
Hippy Hippy Shake
Jet
Drive My Car
Flaming Pie
Got To Get You Into My Life
Let Me Roll It
Foxy Lady
My Love
C Moon
The Long And Winding road
Dance Tonight
Bourree ( JS Bach )
Blackbird
Calico Skies
In Liverpool
I'll Follow The Sun - 3 reprises
Eleanor Rigby
Something ( acoustic beginning )
Something ( full band version )
Penny Lane ( false start )
Penny Lane
Band On The Run ( avec Dave Grohl à la guitare )
Back USSR ( Dave Grohl à la batterie )
Live And Let Die
Let It Be
Hey Jude

En rappel :

Yesterday
A Day in the Life
Give Peace A Chance
Lady Madonna
I Saw Her Standing There ( avec Dave Grohl )
1- Coming Up
2- Band On The Run
3- Calico Skies
   - 1 June 2008 - Liverpool, England -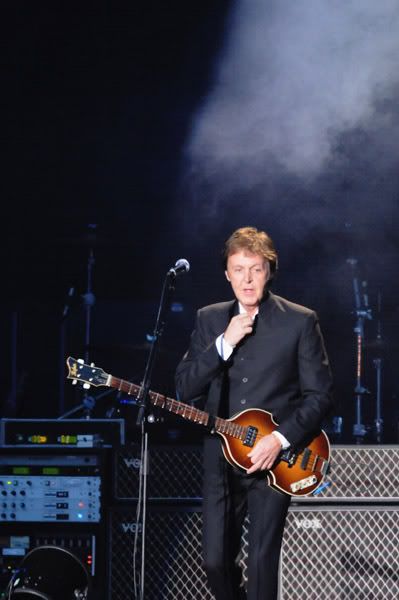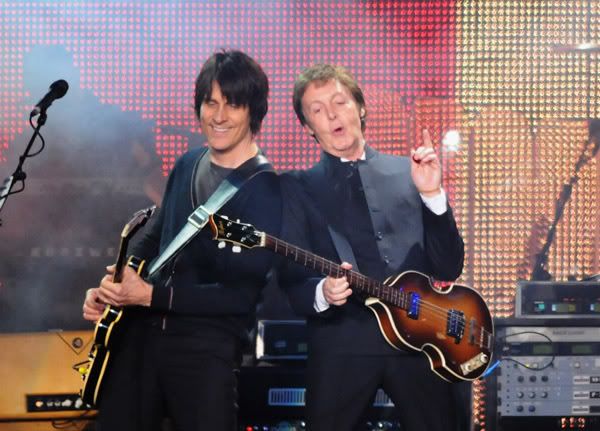 Sir Paul McCartney Headlines The Liverpool Sound Concert
Sir Paul McCartney performs during the Liverpool Sound concert, held at Anfield Stadium on June 1, 2008 in Liverpool, England. The one-off musical concert, headlined by Sir Paul McCartney, celebrates Liverpool being European Capital of Culture in 2008.
—————
---